For parents and teachers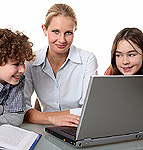 Hop! Study assists students with school projects. However, it can also be helpful for teachers who wish to introduce new concepts, for parents who want to help their children at home, and for home schooling.
Some useful tips for facilitators
Hop! Study
uses an interactive, constructive approach to assist with teaching, planning, monitoring, and evaluating projects.
1.

Use action plans to teach "how-to" realize
different types of project, such as how to do
research, how to write a reading summary, etc.

2.

Print page templates and ask students to complete them by hand.

3.

Enter contents on page templates for a visual approach to teaching.

4.

Build your own page templates (diagrams, cards, timelines) and ask students to complete them by hand or on the computer.

5.

Create a knowledge base for each subject. This allows facilitators or students to enter important concepts so they can consult or review them later.

6.

Ask students to use the planner to manage projects they are working on with Hop! Study. This turns the planner into a portfolio that allows you to consult and evaluate the students' progress.